Album of the Week 10/16/06:
Dokken - Back For The Attack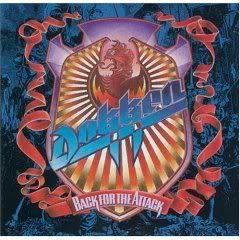 Suggested by: MJ
MJ: Okay - first of all, part of my reason for picking this album ended up being an inaccurate figment of my imagination. For some reason I was thinking this album was released a bit later, outside of the metal heyday of the mid to late 80's. I've since read some really good reviews on this album and it intrigued me. My theory was going to be that there was some really good metal albums that were released that never caught on simply because metal was "out of favor". (How many interviews have you seen with 80's metal folks that blame Nirvana for their demise? The thing is, I don't think they are just trying to blame someone. I think that's really what happened, more or less.) So I made it my pick, then realized this came out in 1987. My theory was blown. Metal was alive and well in 1987. So, as a fan of Dokken around this time, why did I miss this album?
I realized that occasionally I get a mental block on some bands and albums that I just can't shake. For this album, I think it was the whole business with the song "Dream Warriors" and it's association with the third installment of the "Nightmare on Elm Street " movies. I didn't really like the song and I'm pretty sure the video was ridiculous and had Freddie in it. In fact, on further listening I think this is the weakest song on the album. The chorus just sounded kind of weak to me. Now, it turns out that this song was originally released on a special EP, then thrown on the end of this album for the heck of it. Also, I swear I remember hearing a fairly lame chorus that would have been for a song called "Back for the Attack", but now I see that there wasn't a song like that on this album. That one really confuses me. So with those two things in my head, I did not pursue the album any further.
Another thing I find interesting is that the timing of your inroads to an album could be critical. Take some album that for some reason just clicked with you at the time it came out and you still love today. Now ask yourself, if I were to listen to this album for the first time 15-20 years later, would I embrace it as I did before? I'm guessing in many cases the answer is no. So I was definitely up against that problem with this Dokken release.
I've listened to this album a couple times before this week, so I didn't go into it completely cold. I was surprised that it sounded pretty good and heavy before. But this week I was going to really sink my teeth into it. So I listened to it four times. As much as I will admit it does sound a bit dated, I had a fantastic time listening to it and it felt very nostalgic. But I think it stands up musically pretty darn well. As much as Don Dokken's vocals have always been my key to the band, it was George Lynch's axework that really jumped out at me. Really good stuff. (I read somewhere the Lynch was the runner up in Ozzy's auditions for lead guitarist for his solo band behind Randy Rhoads – so yes, he's good.) Generally the first part of the album is its strongest : "Prisoner", "Night by Night" – then holy crap, the instrumental song "Mr. Scary". My god that song is a jam. Lynch just totally shreads. Shreads, I say!
A lot of people cite one of the weaker songs as the single which enjoyed some success "Burning Like a Flame". Yes, it's pretty melodic, but I like it. You can't rock your ass off all the time. It's a great song to sing in the shower, I suspect.
So this exercise renewed my appreciation for Dokken. I think another reason that I didn't bite on this back in 1987 is that I was distancing myself from much of the glam metal type bands in favor of bands like Motorhead, Iron Maiden, etc. Dokken leans much closer to the glam side of the spectrum, but in the end I don't think they should be lumped in with that genre. I think they were a good band with great licks and nice melodic chops from Don. I think it stands the test of time pretty well. It works for me, at least.
(Future AOTW foreshadowing – there's another band/album that may just fit into my original theory that may be coming down the pipeline at some point…)
MH: Yup, I actually had two Dokken albums.(!) Vinyl! I was so into Def Leppard that I started to wander outside the Pyromania camp I was holled up in, and got "Breaking The Chains" for my birthday. I loved the song "Breaking The Chains" SO MUCH! I listened to it, then I turned off the album. I don't know why, I just didn't know that there would be more songs that I would like. Isn't that weird? My brother in law (at the time) Andrew told me that I should listen to the rest of the album as there might be other good songs on there. I for some reason never thought of that. I listened to all of Pyromania, why wouldn't I listen to all of Dokken.
I then got "Tooth and Nail". I though it was the height of toughness with the evil claw and the flames coming out of it. Then I fell in love with the song 'Alone again' that I wrote down the lyrics and put them in my literary magazine for my eighth grade english class. Then I suddenly totally stopped listening to them. I think it was because I got, "Piece of Mind" by Iron Maiden. and that left Don's melodic warbling to the side unforunately.
I, of course, still LOVE "Breaking The Chains", and it's still on my ipod.
I had no idea what this album, "Back For The Attack", would be like...QM had been talking about it for a while and how it was released later than all the hey-day of the metallic eighties, but if you read the previous post, that was proven to be a little off. Which makes me think. Why wasn't this album bigger when it was out? It had to be better than the other stuff that was out! This album has hooks all OVER it. I really enjoyed the shit out of this. I think George Lynch is the pulse of this band. He is such a good guitarist and muscular and powerful and highly underrated in my eyes as an axeman.
Then I realized why this album wasn't big... Forget everything that was out at the time. This album has some of the WORST lyrics I have ever heard. And, unfortunately, every song has some of the same structure. Riff, verse, sing along chorus, verse, sing along chorus, guitar solo, sing along chorus, fade out. Now do NOT get me wrong. The music on this album is fantastic, but I could not get past the lyrics. When I finally got to "Tale of the Gypsy" I was ready to give up. Don Dokken has such a nice melodic voice, that I have always wondered why he chose to be a metal star. It seems to betray his golden tones. He certainly can growl, sort of, but when he was singing the lyrics he just sounded a little silly to me. He needs to work a little bit harder on the content and less on making sure the audience has a sing along opportunity. I think maybe the band would have stuck together if they would have focused on making music that they liked, and not what every studio was putting out at the time. I was also really pleased how uptempo the album was. There wasn't really a ballad on there that I could discern. Well, done Don. All in all, this album is something they should be proud of musically. And George Lynch is a madman on the fret.
My Dad likes Dokken.
MJ: I would have to agree with you on the lyrics. Don and the boys are no thespians. Thank god I have always been able to ignore the silly lyrics in some of my favorite bands. If I had to defend the lyrical content of some of my faves (Y&T included!!!!), I would have an uphill battle. Now when I hear the ridiculous things that are said, I just smile and jam to the riff. I know you agree with this as well, MH - in fact, I think you said something like this in a previous post.