Album of the Week 10/02/06:
Judas Priest - Sad Wings of Destiny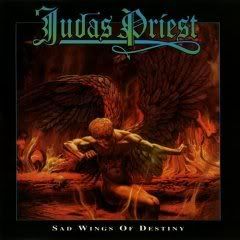 Suggested by: MJ
MJ: I went with this as my first pick due to its historical metal significance, that this year marks its 30th anniversary, and that I personally don't play this JP release all that much. So I wanted to give it a little love...
To fully appreciate this, you have to listen in the context of what it must of sounded like back in 1976. What was ruling the airwaves at the time? Lite rock? Disco? Now, it's not like this kind of heavier music hadn't been heard before: Black Sabbath had been out for quite a while, and it is the second Priest release. But I have to make the claim that a new breed of metal was born at approximately the 6:48 minute mark on the first track "Victim Of Changes". From this point on, Halford just brings the song home with his signature screaming. Over the last five seconds of the song he emits a soaring scream that acted as a sonic calling to all would-be metalheads. It's beautiful.
How I would have loved to have picked this up at a record store in 1976. I give credit to anyone who did. I wonder if there were people who complained of their new direction and preferred the previously released "Rocka Rolla" ("I like the old shit better").
It's always good to have an excuse to throw down more Halford. Chops galore...
MH: I am always surprised at Judas Priest albums. I'm not sure if it's because I tend to compare them with what is out now, or what is popular, but I'm always surprised by them. Nowadays, music is so crazy heavy and insane (ie slipKnot, Meshuggah, Mastodon, and others) that I wonder why people were so afraid of heavy metal back in the day that this came out. It's not nearly as heavy. It was heavier than what was out in the day though, so that's cool. They have two great guitars and a lot of bass, but they aren't that shocking. And Sabbath was doing it first, so they were just following suit. Much like how there are always a ton of lookalike bands in every genre. Priest just sound like good rock and roll to me.

Sad Wings of Destiny starts off like how a Priest album should, with an awesome scream by Rob Halford. The hottest gay guy in metal. I'd jump his bones. I also listened to this album with the knowledge that the singer that replaced him after he left the band was named after track 2. Tim "the Ripper" Owens. I wanted to know why it was this song that he picked to be named after. Why not the Hellion? or Painkiller, or The Electric Eye? Which also brings me to what I find funny about Priest. They always have titles for really supremely evil things that are meant to "getcha": The Hellion, Painkiller, Green Menalishi, Exciter, and it always makes me laugh. Plus I wasn't expecting as much piano on the album as there was. Piano isn't particularly heavy, so I am glad to see that they weren't afraid to use it. (However, pianos are generally really heavy physically.) Keyboards are always used more in the european bands anyway. It's not considered wimpy as it is over in the states...

Another thing I like about Priest is that they are never afraid to have a story line of some sorts within the tracks. I kind of scoffed at the reports that the new album would be conceptual, but then they have always tried to keep up with Maiden's boys at writing long flowing verses about mythical things. Personally, I think Preist are better at the 3 or 4 minute rock jams. But they have had something like the last track on the albums. It has an intro, and then tell a story. Which is cool, I thought. The guitar playing on this album is so good, and I could tell that they were hungry and were only going to go up in their talents and rocking nature. I'm glad to have this album now under my belt.