Album of the Week 12/11/06
IQ - The Wake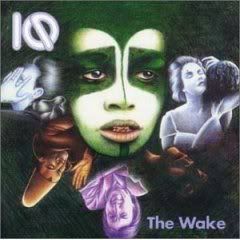 Suggested by: MJ
MJ: I picked this without ever hearing it, based on reading somewhere that I should dig these guys if I'm a fan of certain other bands (namely, Marillion). I was sort of taken aback since I'd never even heard of them. So I decided to give them a spin.
I listened to this first at work, which is a terrible place to get a first impression. The volume is down way too low for starters, plus I get distracted. So after that listen, I was ready to do my write up – basically pan the album and talk about how it's never a given that you will like a band because they are "similar" to some band you dig. This thesis was reinforced this weekend from another event, which I'll get to later.
I usually try to listen to each AOTW more than once, particularly ones that are new to my ears. So I thought I would give this another chance. I queued it up on my mp3 player, but put a backup after it in case I just couldn't get into it. Low expectations, my friends…
So off I go. Definitely prog rock – you can't hide from those keyboards. The singer's voice was not bothering me – kind of a cross between Tommy Shaw (Styx), Geddy Lee (Rush), Jon Anderson (Yes) and maybe someone else that I just couldn't figure out. The music style sounds a little dated, it is from 1984 (22 years ago!). But I can't poke holes at their musical abilities. There's some pretty intricate stuff on here. There was one song ("The Thousand Days") that kind of reminded me of that Flock of Seagull's song "Space Age Love Song". And oddly, that didn't bother me that much. So I didn't turn it off.
This one could actually grow on me a bit over time. I may even check out some of their more recent releases. And I was this close to discarding them forever…
Prog rock/metal is a tough thing. I think there is a fine line between good and cheesy. And I think this line is in a different place for everyone. This is a particularly delicate genre to turn people on to. I'll be surprised if MH digs this one.
So what about the event over the weekend that I was talking about before? Ok, here goes. I was scanned my TV for HD things to DVR, and came across Dream Theater Live at Budokon. This is a band I'm supposed to like given that I like prog rock/metal and particularly because I like Queensryche. I've listened to a few of their CDs. I keep trying to get into them because I felt like I should – and hoping that I will get off on them like I do on Queensryche (the more the merrier!). But after watching a bit of this concert, it is finally apparent to me: I don't like Dream Theater. There, I said it. It's done and I'm extremely over it. It's all about the vocals – they just sound weak and thin to me. I've seen the lead singer's name on lists of best vocalists, but I just don't get it. Coincidently, it's of the same style as IQ's singer, but I like his voice so much more.
So this reminds me once again that there are no guarantees when it comes to digging music. Sometimes the fact that a band "sounds just like" a band you love doesn't mean shit. You may think, "yes, I can see your point, but there is one difference: they suck and the band I like rules". And no one can really argue with that. I guess sometimes people say this without really trying to get into the music, but there's nothing you can do about that (besides maybe duct-taping a pair of headphones around their head). Music is subjective. And I will not be subjecting myself to Dream Theater anymore…
MH: Man, this was an album that truly tested my patience. In a good way, I mean, at least I'm sitting listening to music instead of tarring a roof or something like that. Sometimes when an album is a specific type, in this case, prog rock, you kind of have to be in the mood to listen to it. In my humble experience, if it's not hitting you , it's hard to be dropped into a concept album. Because most prog albums are concepts....
I love the use of keyboards on this album. I have always loved interesting use of keyboards. And they have some good harmonies on this too. I think the idea of a choir of angels is fun and should be used in EVERY recording somehow. Don't we all need a choir of angels? For Real. Okay, I think that's all I have to say. I didn't really get into this, would love to, but I don't know If I feel like making time for another prog band. I can't even get through my Dream Theater CDs in one sitting and I've had them for years....